If by any crazy chance some of you have succeeded to miss the hectic last minute Christmas shoppers and the endless verses of Rudolph-this-and-Santa-Claus-that, your last clue to realising it's beginning to look a lot like Christmas is probably the lack of light during the course of the day, hence why these photos are super shaky and full of noise. Annoying yes, but you should get the gist of the outfit; I'm so into hats this year I cannot tell you. If anyone knows of a good (or why not, a mad) hatter, do let me know, please.
On the topic of how Christmas seems to look like these days by the way, is anyone else getting seriously fed up with this buy-fest that it's become? Not speaking from a religious angle over here at all, and very much aware that I am running fashion blog of which a large part revolves around consumerism and materialism, for me Christmas has recently become a time of not buying. Whether it be the wide-eyed Christmas-list people elbowing me that have driven me to the brink of a sheer panic attack more than once, or retailers advertising about deals as the solution to everyone's perfect white Christmas, or the amount of pressure people seem to have on their backs for finding the PERFECT gift to buy for their beloved – I've simply just had it. I recall hearing a little phrase 'it's the thought that counts' but if truly it is the thought that counts then why does it seem to me that what counts more than 'the thought' is the amount of money you're about to spend guessing what your beloved might desire this year. When did it become such a hassle to buy gifts anyway? I yearn for the simple times as a kid when you would write your letter to Dear Santa, hoping he was well, and asking if you could have toys for Christmas.
I know I'm going to extremes here talking how chances are Christmas won't be ruined if you don't buy her that designer bag, or for him that plasma TV. But quite frankly, if it does, it might be time to reconsider your relationships/priorities. One of my absolute favourite Christmas presents I've received in my entire life came by post yesterday when I came back from work, exhausted. It was a tin can of tuna steak in spring water. Why one of my favourites? Well, a) it made me laugh after a long day at work b) the guy knows I LOVE tuna c) it brought me back so many good memories from last year with him and our group of friends d) it showed he'd clearly put thought into it e) I was really hungry & had use for it.
My point here is not to lecture anyone on how to spend your money, Christmas, life, relationships, or tuna cans. To be completely honest I'm not entirely sure why I'm even writing this down here, probably to ease my nerves before I have to face the seemingly zombie-d pack of last minute shoppers again tomorrow. I will probably get back to the buying-mood post-Christmas rush myself, but before the big day why not swop the time you'd spend scouring shops and the internet for stuff to buy, with doing something a bit more thoughtful. Say, bake a cake instead. Give a coupon to your mum offering your cleaning services for a day per month for the next year. Make a mix tape of all the songs that describe your relationship from the moment you saw each other to the moment you realised you were in love. Go crazy.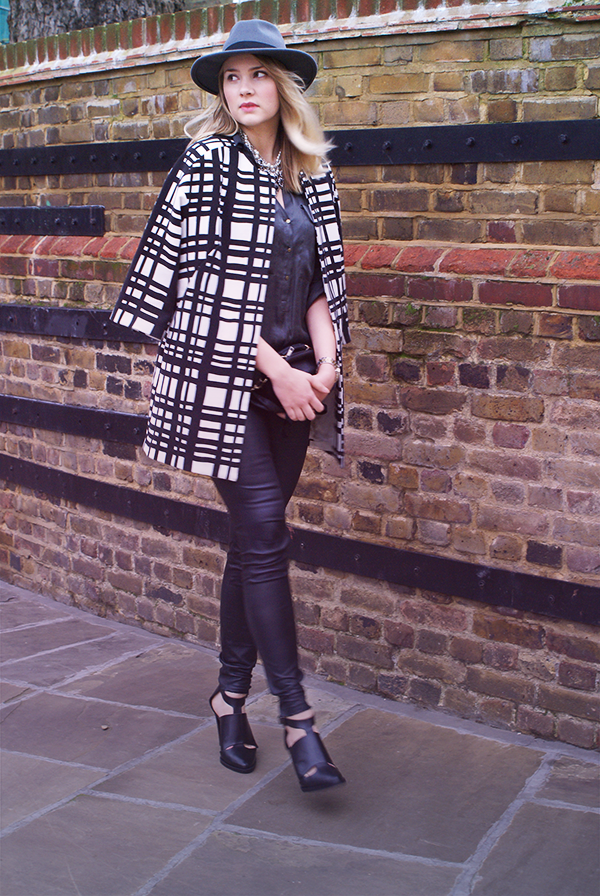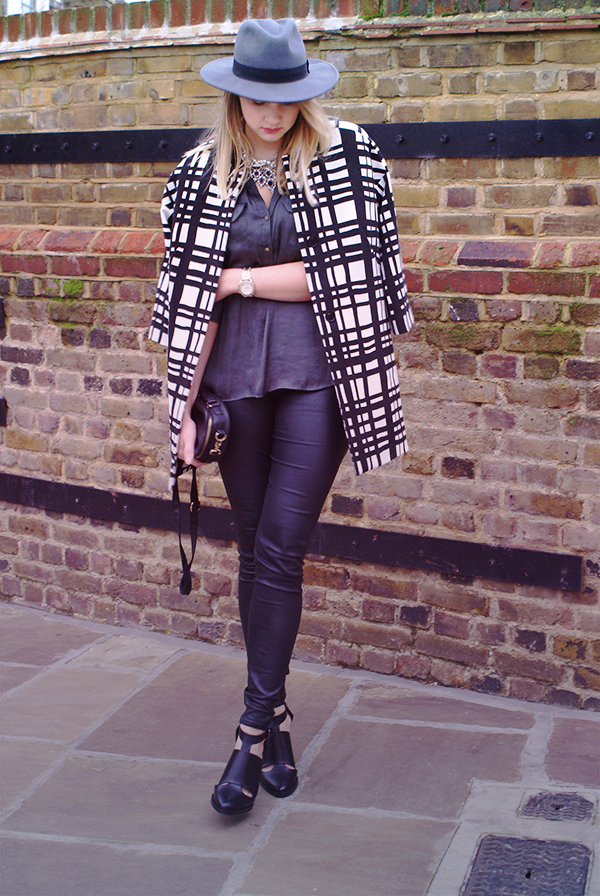 Coat By Malene Birger, Fedora H&M, Leather leggings By Malene Birger, Silk shirt Zara, Pearl necklace Zara, Heels &Other Stories
Get this look for $194+ on Lookastic: Navy Wool Hat, Black and White Coat, Grey Silk Tunic, Grey Hat, White Pearl Necklace, and Black Leather Leggings