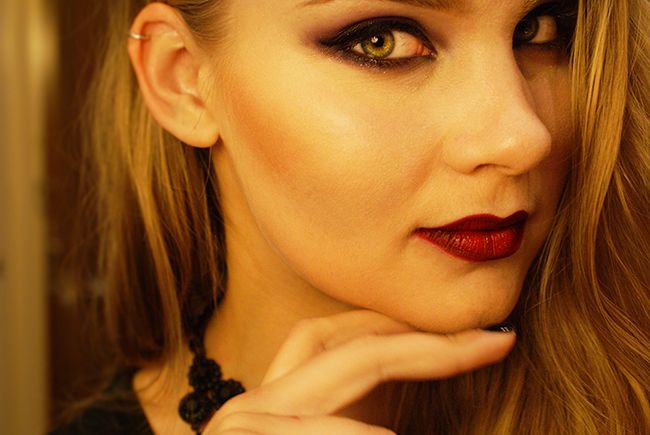 I've never been a big fan of fancy dress. Halloween, festivals, theme birthday parties - naaah, not for me please. Only if I was invited to an Italian, old-themed masquerade ball then absolutely yes please count me in, but otherwise please don't. Just, don't. However, what I do enjoy is the justification to go "a bit" more extravagant with my make up! Although I don't wear a ton of make up on my face normally, I'm secretly a closet make up junkie. As in if I had more spare time on my hands I would be lobbying hard to get Sephora to open their first store in London because it would just make sense. Anyway, Halloween is THE perfect holiday (it's not really a holiday though is it) to explore and step away, waaaay away, out of my comfort zone. Much like with clothes, I love how make up can completely transform the way you look (I never grew out of dressing up games). For Halloween I always go for a dark, vampy look that I never would otherwise dare to do, but since the majority of Londoners are going about their day with skeleton make up, slutty animal costumes and fake blood, I figured I'd probably get away with sporting "a tad" more black eye-shadow than normally... Follow the steps below to get the look! I've linked all the exact products I used to create this look at the bottom of the post.
1. Prime-time
Since I'm going to be using A LOT of dark eye-shadow on my eyes, it's best to apply primer to the full eye area. I'm using my NYX Cosmetics High Definition Eye Shadow Base (which is now available at Boots, make up geeks rejoice!). Let the primer dry completely to avoid lumpy eye-shadow.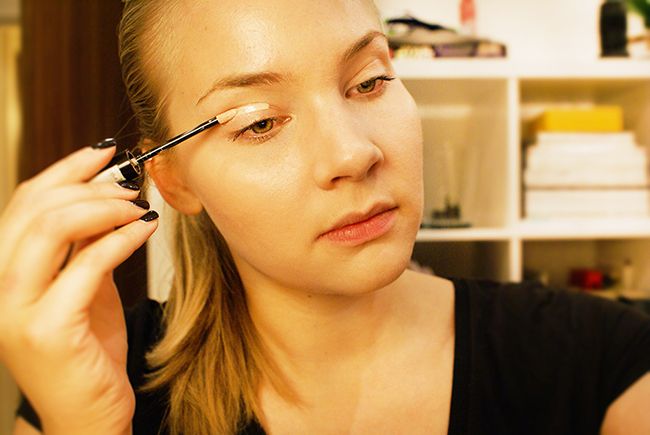 2. Back in Black
Now we get to the fun bit! Take your blackest, smoky matte eye-shadow and apply all over your lid and up to the crease area. Apply the density of your eye-shadow in an ombre effect, leaving the inner eye a softer, smoky grey, and the outer corner a deep charcoal. You don't have to be super careful with the edges since we're gonna go in with another colour and blend everything in a jiffy.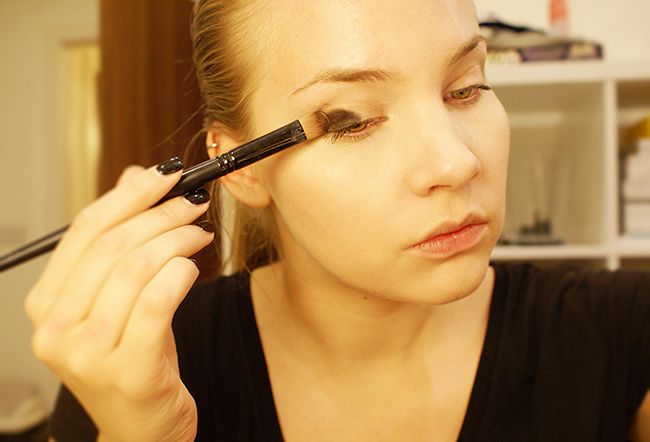 3. Purple Haze
Next apply a deep, purple shade into your crease and brow bone, overlapping with the black eye-shadow. Go over the lower lash-line with the purple shadow as well, and start to create a v-shape. Blend out any hard edges so that the black and purple flow together perfectly.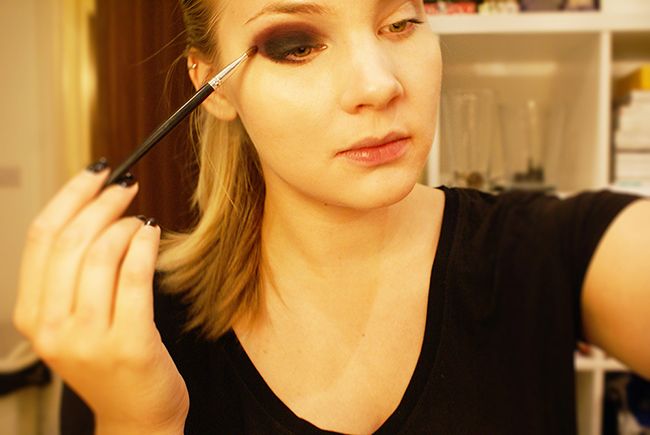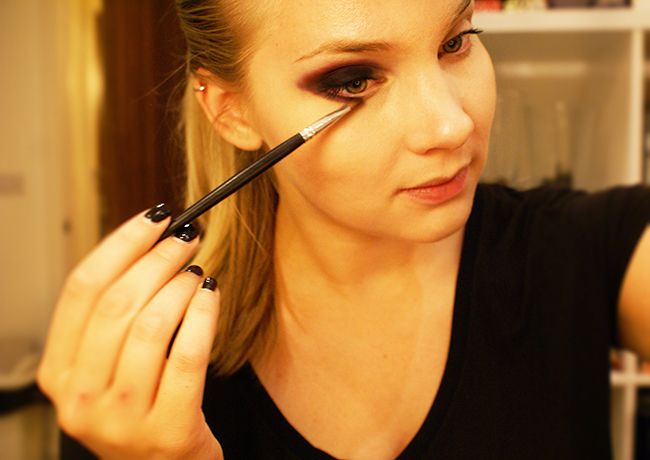 4. All that Glitters
Now take a glittery eye-shadow in a dark shade (could be black, grey, brown, purple...) and dab it on top of the black eye-shadow. You can go over the purple bit as well if you'd like but I prefer to keep mine matte to create a nice contrast. I dabbed some of the glitter onto the lower lash-line as well.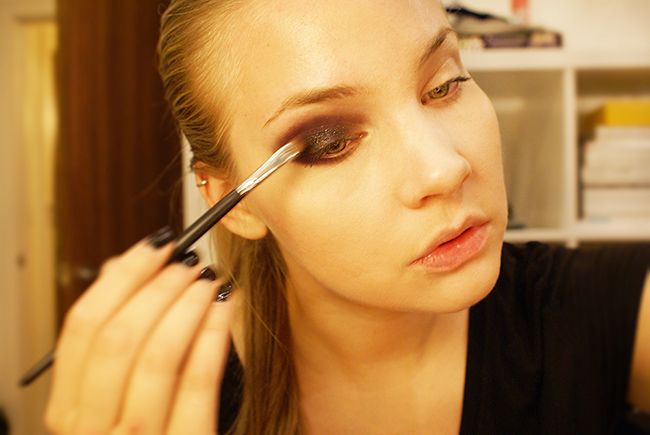 5. Cat
Line your eyes with a black pencil in a cat-eye shape. I used a dry pencil on my waterline, and a liquid liner to create the cat-eye because I find liquid gives better definition and stays longer. You want to position your liner so that there's purple eye-shadow on both sides of the line. Needless to mention (yet, I'm doing it) apply mascara, A LOT of it. I'd probably bring in the big guns, AKA falsies, if you have them lying around the house to finish this seductive eye make up.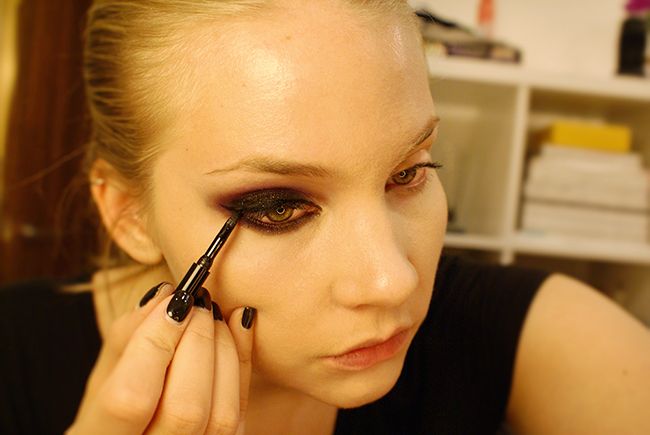 6. Power Brow
Now give yourself power brows by drawing them a bit thicker than what they naturally are. I prefer using a brow pencil but obviously use brow-shadow if you prefer it.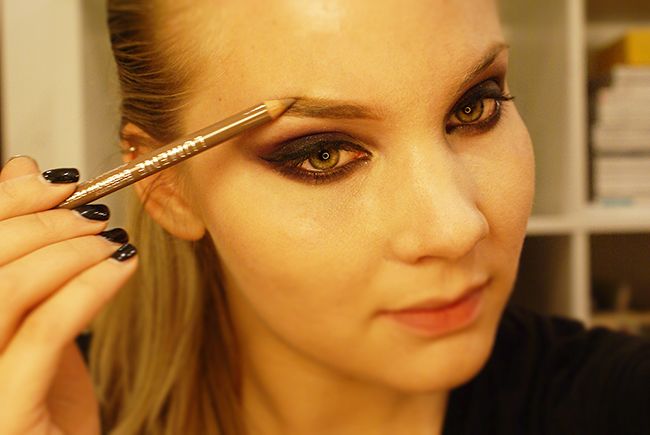 7. Lipstain
To emphasize the vampy look, I chose to use two different shades of red for my lips. Before you apply the lipstick, remember to LINE YOUR LIPS. Otherwise all will fail and I will be very sad. I like to first use a colourless lip-liner to line my lips just outside the lines, and then go in with the desired matching lip-liner colour to line and fill the lips in full. This will help the actual lipstick stcik (stick stick) better, which means you get a longer lasting finish (I'm starting to sound like a Vanish! Oxi Action -ad). I find it easiest to smile when you do this so you can reach all the little nooks and crannies in your lips. After you've lined your lips, go in with a dark, deep burgundy lipstick all over your lips. Afterwards take a lighter scarlet red colour, and colour the inner bit of your lips. This ombre look creates a sultry effect.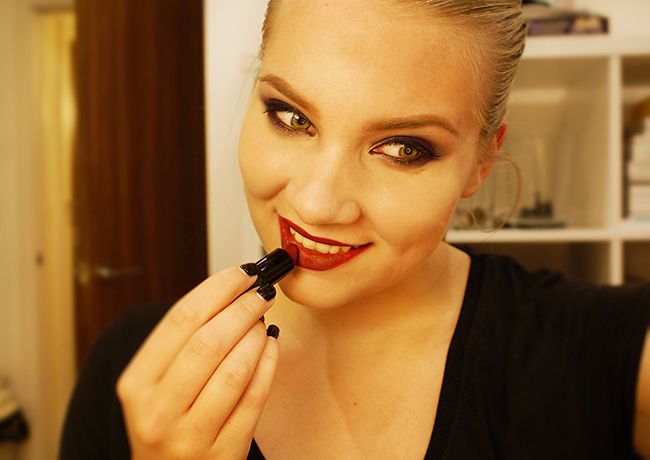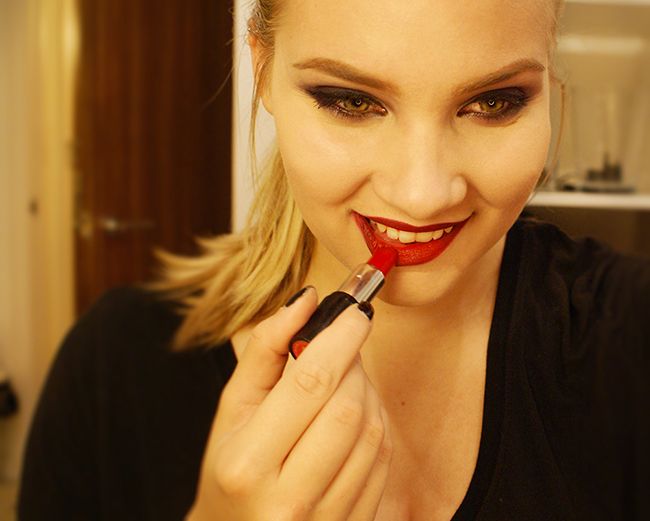 10. Seduce
Then you're pretty much done! I added quite a heavy cheekbone contour and some blush to finish. I don't like contouring my face too much but feel free to do so if you actually know how to (I don't, I suck balls at it). Now we're ready for the Halloween night and to seduce our prey. Trick or treat, anyone?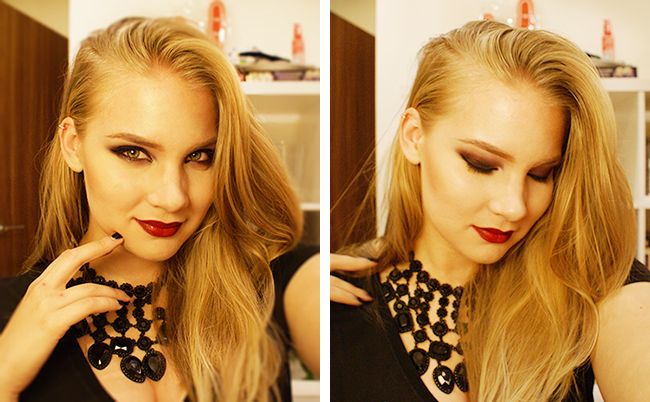 GET THE LOOK
Eye-shadow primer // NYX High Definition Eye-Shadow Base
Black Eye-shadow // Bourjois Little Round Pot
Purple Eye-shadow // L'Oreal Paris Color Riche Mono Eyeshadow in 301 Escapre in Bordeaux
Glitter Eye-shadow // Barry M Dazzle Dust Eye Shadow in Burgundy Noir
Liquid Eye-liner // Rimmel Exaggerate Eye Liner
Brow Pencil // Lumene Cosmetics
Dark Lipstick // Sleek MakeUp True Colour Lipstick in Dare
Light Lipstick // Rimmel Kate Matte Lipstick in 107